ECU Water Corps
ECU WaterCorps is a student-focused organization that takes on environmentally-related projects for clients within and outside of ECU. WaterCorps operates like a real-world business, similar to the way companies work in the environmental consulting industry.
As a part of WaterCorps students have the opportunity to take part in both technical and business operations, thereby creating a unique opportunity to prepare for the workforce. Members of WaterCorps also take part in professional development and networking activities to prepare for success after graduation!
All members of WaterCorps are paid employees of the organization, though different types of positions exist:
Interns work on projects under the supervision of WaterCorps staff and project managers.  Internship positions provide an opportunity to learn more about WaterCorps and the projects we work on.  Intern positions are typically about 30 paid hours over the course of a semester.
Staff positions require a greater degree of expertise in an area, which may be gained through internships or by taking part in WaterCorps training activities.  Staff members may apply their specialized expertise to support multiple client projects.  A typical staff position will be for 5-10hrs per week or full-time in the summer.
Project Managers have a high degree of technical expertise enabling them to lead a project.  Project managers interface with clients to define the scope of work for a project, manage staff and interns to complete project activities, and prepare reports and presentations to share the project products with the client.  Project managers typically focus on a single project at a time and work closely with their clients and faculty to ensure that high quality work is produced.  The amount of time required for project managers is typically 10hrs/week during the semester or full time in the summer.
Not just technical skills!  Current ECU students from all majors may apply for a position in WaterCorps.  Many different skills and backgrounds are needed for activities that range from working in the lab or field to marketing and business leadership.
Stop!
Contact us at
water@ecu.edu
if you are interested in applying for the WaterCorps!  Positions are currently
available
!
What types of services can WaterCorps provide?
WaterCorps can provide a broad range of services based on the diverse student experiences and resources available through ECU.  Examples of typical services are given below, but just ask if you think you can see another area of need!  More information on resources available through the Water Resources Center is available here.
Water Quality Assessment: Collection and analyses of water samples from taps, surface water, and wells as grab samples or using autosamplers.  Field-based measurements of key parameters (e.g., salinity, temp, pH, DO, ORP, chlorophill-a, etc.).  Contact us for details on what specific types of lab-based analyses can be performed at ECU.
Monitoring and Data Acquisition: Design, deployment, and monitoring of sensor networks for surface water and groundwater monitoring and flow measurement.  Geophysical surveys (e.g., ground-penetrating radar, resistivity, etc.) to investigate subsurface structures and conditions.  Topographic surveys and aerial imaging using UAVs.  Surveys of environmental and community infrastructure.
Analysis:  Creation and annotation of custom maps, visualization of data and preparation of infographics, retrieval preparation of data and regulatory information from online and traditional sources, data analytics and modeling.
Outreach and Education: Development and staffing for K-12 and public environmental education and citizen science programs.  Creation of multi-media content and social media campaigns, unique science communication and engagement materials (e.g., interactive photospheres, serious games, virtual reality).
Projects we are currently working on:
CoPe Sampling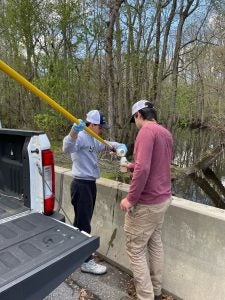 ECU WaterCorps collects water samples to help understand how water quality is influenced by land use and how it changes throughout the year. The sampling occurs once a month as part of the environmental monitoring conducted by the WRC's Coastlines and People (CoPe) project to better understand water quality in the Tar-Pamlico Watershed.
Monitoring efforts include:
Water quality sampling of 39 water sites along the Tar-Pamlico Watershed

Analyzing water samples for water quality parameters like coliform bacteria, salinity, and nutrients
The sites cover the Tar-Pamlico Watershed starting in the Piedmont near Rocky Mount, down through the Coastal Plain, and end in the Pamlico Estuary ending near Aurora.
Sylvan Heights Monitoring 
At Sylvan Heights Bird Park, ECU Water Corps collect routine environmental sampling of the site. The sampling is necessary to ensure high water quality at the park due to bird-housing.
Sampling includes testing for:
Basic water parameters 

Nitrogen, phosphorus, and coliform

bacteria content

Current Project Opportunities:
Water Quality Technicians
Coastal Hazards Education Project
Benefits of WaterCorps for students:
Develop both technical and professional skills that will differentiate you in the workforce
Get meaningful experience on real-world projects while getting paid
Work on projects that make a difference to communities in Eastern NC
Collaborate and network with clients who are your potential future employers
Benefits of WaterCorps for clients:
Explore projects outside of your normal scope of work
Identify and build connections with outstanding future employees
Provide mentorship to help guide a student to success in their career
Get access to unique personnel, equipment and resources available through ECU
Our community partners and clients include:
North Carolina Department of Environmental Quality
Albemarle-Pamlico National Estuary Partnership
Badger Real Estate Seminars
Sylvan Heights Bird Park
The Nature Conservancy
Aurora Fossil Museum
NC Sea Grant
Are you interested in working with ECU WaterCorps? 
If you are interested in working with ECU WaterCorps, please fill out the attached form and send it to water@ecu.edu. ECU WaterCorps will then review the project request and determine if we have the capability and staffing to assist on the proposed project. We encourage potential clients to directly contact us at water@ecu.edu prior to submitting the form to help with scoping the project. 
Click here to download the ECU WaterCorps Client Application Form!

         This material is based upon work supported by the National Science Foundation under Grant #2119857.