Tar River Community Science Festival
A celebration of our river, community, and relationship to one another: Thank you for everyone who visited the second annual Tar River Community Science Festival on October 7th of this year!
It was our pleasure to host fun activities to expose people of all ages to science and promote shared learning about challenges faced by different communities in Eastern North Carolina. We had a great time brainstorming about possible solutions for water related issues, and as well as build awareness around environmental challenges in our region.
We are very thankful for all the participating organizations and volunteers who made this festival happen. We could NOT have done it without you!
It is our goal to engage with the public and talk about community science, as we want to keep talking about climate change, our futures, and being more resilient.
Stay tuned for the announcement of next year's Tar River Community Science Festival. We can't wait to meet you again!
---
Thanks to our Partnering Organizations and Sponsors
A special thanks goes out to all the partnering organisation and sponsors helping us putting the festival together. We are so grateful to the Rotary Clubs of Greenville and a grant from the National Science Foundation's Coastlines and People program for financial sponsorship of this event. We also acknowledge the assistance provided by the City of Greenville to make this event a success!
Organizing partners for this event include:
NOTRA (North of the River Association)
CAR (Pitt County Coalition Against Racism)
Town of Princeville
NC CIVIL
NC Environmental Justice Network
Greenville Rotary Club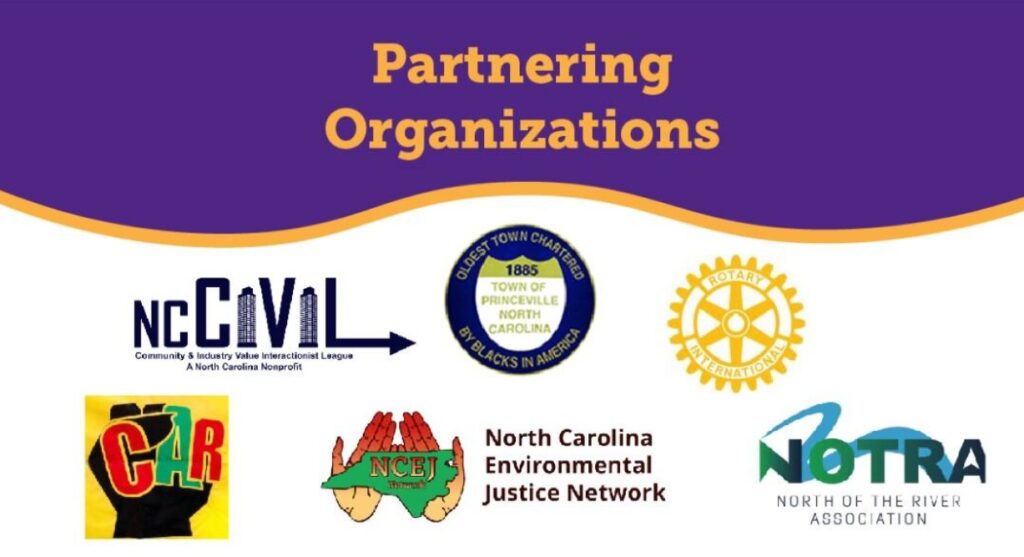 ---
Thank you to the following organizations attending the festival as well:
Conservation Trust for NC
NC Environmental Justice Network
ECO Pirates
ECU Biodiversity Initiative
Girl Scouts of Pitt County
Innovation Early College High School
North Carolina Conservation Network
Rock Museum – Kaye Lees Corner Foundation
NC Museum of Natural Sciences (A Time for Science)
Greenville Museum of Art
Aurora Fossil Museum
Painting Pixies
Riverside Recreation
Planet ECU
ONE Carolina
ECU Coastal Society
Sierra Club Cypress Group
---
If you or your organization are interested in being a partner or participant in the event for 2024, please let us know! We are looking for organizations who would like to share information about their work with the public at an event table, provide a hands-on science or art activity related to science and/or community, or share their experience or perspectives through a short presentation.  We are also accepting financial contributions and sponsorships to support this event.
To be included as a participant in the Tar River Community Science Festival, please contact Grace Gavigan (gavigang19@ecu.edu) for more information.
The Tar River Community Science Festival is supported through a grant from the National Science Foundation Coastlines and People project at ECU and the ECU Water Resources Center.  Learn more about about the Coastlines and People project and ways to get involved here: https://water.ecu.edu/cope/.

This material is based upon work supported by the National Science Foundation under Grant No. 2052889.  Any opinions, findings, and conclusions or recommendations expressed in this material are those of the author(s) and do not necessarily reflect the views of the National Science Foundation.