Congratulations to the 2023 Fall CCEDS NRT Cohort!
Together, we make a difference in communities
The CCEDS program, part of the National Research Traineeship (NRT) initiative, trains graduate students to use data science in solving real-world environmental and community problems. We are happy to announce and welcome our Fall 2023 CCEDS NRT Cohort trainees who will undergo unique training activities to prepare them for applying data science to a variety of environmental, community, and health-related issues.
Jessica Nicole Miller
M.S. Biology (she/her)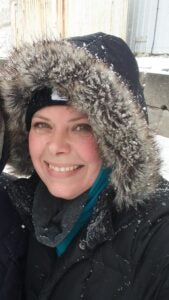 I received my Bachelor of Science in Marine Biology from the College of Charleston in 2011. For the next 12 years, I worked in Alaska, British Columbia, and the Pacific Northwest for various state, federal, and intergovernmental agencies as a fisheries field biologist, collecting fishery-dependent and fishery-independent stock assessment data while living aboard commercial fishing vessels and at shoreside seafood processing plants. In the fall of 2023, I began work on my Master of Science in Biology in Asch Lab, using historical data sets and modeling techniques to study the effect of hurricanes on coastal North Carolina fish communities.
As climate change impacts the frequency and severity of hurricanes, it becomes increasingly important for coastal communities to understand the effects of hurricanes on economically and culturally important commercial and recreational fish species. I am using a combination of several historical data sets and various modeling techniques to analyze the effects of these storms on fish assemblages in North Carolina coastal waters and estuaries. Using a community approach, I am investigating which life history strategies provide resilience or vulnerability in the face of hurricanes and to what degree these impacts vary as a function of different hurricane characteristics, such as intensity at landfall, accumulated rainfall, and timing of the hurricane within the year.
---
Colin Finlay
Ph.D. Biology (he/him)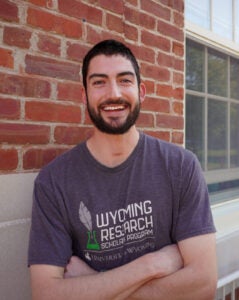 I grew up in Jackson, Wyoming, and did my undergraduate studies at the University of Wyoming. (As an undergraduate, I earned a B.S. in Microbiology, a B.S. in Molecular Biology, and minored in philosophy). As I was graduating University of Wyoming, Dr. Ariane Peralta advertised a position for a Master of Science student, and the position was a great fit for my interests. So, I came to ECU and earned a Master of Science in Biology (concentration: Environmental and Organismal Biology).
While finishing the MS, I was ready to pursue a PhD, and I really enjoy the data science aspects of my work. I am motivated by work with community partners because I think these partnerships guide the science to be more applicable to pressing issues. The NRT program is an excellent opportunity for me to develop data science, communication, and community engagement skills that will benefit me throughout my career. (Because of this, I applied for the NRT program and the PhD program: Interdisciplinary Doctoral Program in Biology, Biomedicine, and Chemistry, concentration in Biology).
I now study microorganisms in soil and aquatic sediment. These microbes cycle nitrogen, and in certain conditions, can help remove excess nitrogen from our soil and water. I investigate these nitrogen removal process in farmland and stormwater infrastructure and try to understand environmental changes that impact the efficiency of nitrogen removal. I hope this research will advise nutrient management practices for stormwater and agriculture. After completing the CCEDS NRT, I plan to continue research and teaching in the realm of microbial ecology and climate change.
---
Mariela Victoria Garcia Vega
Ph.D. Interdisciplinary Coastal Sciences (she/her)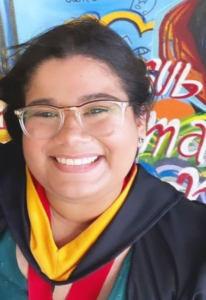 Mariela is a Ph.D. student in the Interdisciplinary Coastal Sciences Ph.D. Program at East Carolina University. Mariela has a bachelor's degree in Interdisciplinary Natural Sciences with a double major in Political Science from the University of Puerto Rico-Rio Piedras. She is interested in coastal ecosystem services,  coastal governance, and coastal policy. Mariela's NRT project focuses on the overlap of institutional arrangements and how their implementations influence the coastal squeeze effect on mangroves in Puerto Rico. 
---
Jillian Eller
Ph.D. Interdisciplinary Coastal Sciences (they/them)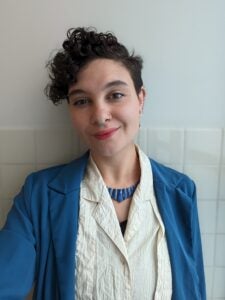 Jillian Eller (pronouns: they/them/theirs) is a Ph.D. student in Integrated Coastal Sciences at East Carolina University. They are currently working as a Graduate Research Assistant alongside Drs. Lindsay Dubbs and Linda D'Anna, focusing on stakeholder engagement for the Atlantic Marine Energy Center. With a research background in geography, they are pursuing an interdisciplinary education, merging natural and social sciences to advance marine renewable energy. Their work couples human dimensions with physical and ecological aspects of coastal energy research, utilizing quantitative and qualitative methodologies to link scientific innovation with societal benefits. Jillian's interdisciplinary approach originates from their community organizing career centered on equity and justice. They hold a BA in Environmental Studies from Temple University.
---
Jacquelyn Moore
Ph.D. Interdisciplinary Coastal Sciences (she/her)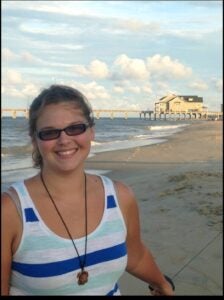 Jacquelyn Moore grew up on the beautiful Outer Banks and graduated from UNC-Charlotte with a Bachelor of Science Mechanical Engineering '17 and a Masters of Science Engineering Management Energy Systems '19. Jacquelyn joined the Integrated Coastal Sciences Department at East Carolina University as a PhD student in July 2021 under the direction and advisement of Dr. Mike Muglia at the Coastal Studies Institute.  Her research interest serves to study the contribution of wave energy to the Northeastern Outer Banks energy portfolio by using an interdisciplinary approach of 1) conducting wave energy analysis through buoys and satellite altimetry products, and 2) conducting a cost and benefit analysis of the available wave energy. Jacquelyn is a member of The Coastal Society, Society of Women Engineers, and the NC Society of Engineers. In her free time, Jacquelyn enjoys spending time with her two children, Cedar and Aspyn, traveling, and baking.